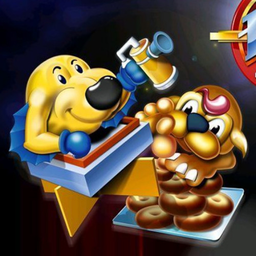 Best posts made by Aced_100
Have been waiting for this as I only need a pair of Hunters Faith classified gloves to complete that set, I love sniping, RNG is being a pain though, I have gotten so far this Global Event:

Backpacks x 5
Holsters x 3
Masks & Kneepads x 2
Vests x 1
Gloves x 0

Have a few days to go so fingers crossed I will get them, I look at it this way the longer I go without getting them the more chance I have to get them, forever the optimist.


I love experimenting with different builds, a PVE one I really enjoy is my Badger Tuff build, it's a tanky build with lots of armor regen but still does plenty of damage. No trouble doing Heroic missions solo, the Safety Distance SMG shoots with laser precision. I'm practically un-killable.

Technician Specialization

Chest : Badger Tuff with Perfectly Unbreakable
Mask : System Corruption
BackPack : Memento
Gloves : Badger Tuff
Holster : Badger Tuff
Kneepads : System Corruption

Weapons:
Safety Distance SMG - Perfect Outsider. After killing an enemy, gain 125% optimal range and 125% accuracy for 10 seconds.
The Mop Shotgun
Alernate weapons: Scorpio or Sweet Dreams Shotguns.

1.7m Armor with over 25% (higher when using The Mop) armor on kill, 60% CHC and 121% CHD, Turret and Striker Drone skills.




@noxious81 I have got exotic gear that I never had before, for example the Chatterbox, I got the pieces of the Chatterbox and crafted it, then opened some of the caches I got prior to doing this and got a Chatterbox. I thought you couldn't get the Chatterbox from a cache until you have crafted one already?

I also opened 4 caches in an area where backpacks were targetted loot, got a Memento, 2 x Acosta's and a Liberty pistol. Didn't have a Memento prior to this.

Not saying this works all the time or its not just luck/coincidence but it worked for me.

The players I despise the most are the ones who complain about other players all the time.

My son gave me a PS4 a while back and I started playing the Division, and now the Division 2, being a fairly average player, and nearly 70yo, I have experimented with different builds. I came up with this one and don't really know how it works so well but I can literally run through Heroic missions with directives so easily with it, it amazes me how well it works. So if you're an average player and can't even manage Heroic missions without dying and having to restart all the time read on. I have tried ND, HF, and many other builds but this one works the best for me.

Mask = Badger Tuff - Blue
Backpack = Memento
Chest = Badger Tuff with Perfectly Unbreakable and changed to Red.
Gloves = Petrov Defense Contractors Gloves with 8% damage to armor
Holster = Badger Tuff - Blue
Kneepads = Prov Defense

Weapon 1 = The Pestilence - 99k dmg, 38% CHC 103% CHD, 110% HS
Weapon 2 = Classic M1A Rifle with In Sync - 417k dmg, 45% CHC, 118% CHD, 105% HS or The Mop with In Sync

Skill 1 = Striker Drone
Skill 2 = Assault Turret

Technician Specialization, 1.3m Armor, 4 Red, 3 Blue, 2 Yellow

Badger Tuff gives 5% Armor and 10% Armor on Kill, Unbreakable restores all Armor once a minute if needed.



Since we have had restricted movements from Covid it's been a good way to pass the time IMO.

@neebanator That does seem to work for some reason, I was doing GWH with backpacks as targetted loot, couldn't get anything to drop until I started changing difficulty levels then got a Memento and an Acosta's on the next two tries.


Not knowing what gear you have and you saying you're a casual player wanting to solo heroic missions I suggest this build, I can run through heroic missions with a similar build, I use an LMG and either a shotty or rifle, but I've changed it a little to suit your shotty and AR.

3 pieces of Badger Tuff which gives you 10% shotgun damage, 5% total armor and 10% armor on kill, if you get the Zero FF's chest it comes with Perfect Unbreakable which repairs 100% of your armor when it's depleted every 55 seconds. This is the tanky part.

1 piece of Fenris Group for 10% AR damage.

1 piece of Ceska Vyroba for 10% crit chance.

1 piece of Grupo Sombra for 10% cri damage.

That's the damage part.

Now if you happen to have a Memento backpack or a Coyote's Mask you can substitute either the Ceska or Grupo for one of them.

If you're using non exotic weapons try and put In Sync on them, this gives you an extra 30% weapon and skill damage when you're using a skill, like your turret or drone or both. If you have the Scorpio shotgun, or the Capacitor AR use either one, the Scorpio will take down named enemies easily and the Capacitor increases your weapon and skill damage. And on your non exotic backpack try either vigilance of composure for extra weapon damage.

Most hardcore players will laugh at this build but try it and see, it's amazing how much damage you can take and inflict with this build and you have little chance of dying in a heroic mission.

I tried Ubuntu a while back and use it almost exclusively now, would never go back to using Win 10 again, no more "Updating Windows, please don't turn off your computer, this may take a while!" nonsense.

If I hadn't got Div 2 on PS4 I would try it on Ubuntu for sure.