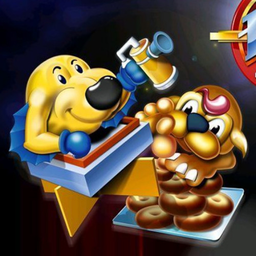 Posts made by Aced_100
I was bored yesterday and went into the DZ for a look, was clearing a Landmark and was in cover and just finishing off a big armored guy, someone comes up behind me, turns rogue and shoots me in the back. I had no gear and go down, respawn at a checkpoint and leave the DZ, yipee! No complaints, I play solo open world.

@v4mpir1 I had some and a while ago and they just disappeared after an update, I have read others had the same thing happen to them, none of my other mods vanished. There is also no bleed resistance in the re-calibration library.


What happened to bleed resistance? Mine all disapeared I don't have any mods for it anymore?



Problem Solved!

I couldn't find it in the game but I must have had a boys look as in the options menu before you load the game, it has "update history" and it lists it as 1.36 so all is well.

It must have tried to download the update, failed then downloaded it again and installed it, I'm glad though that I deleted that failed file because it was taking up a bunch of space on my SSD.

I saw on my PS4 that I have in notifications "Can't download" for a Division 2 file dated 17/12/2021. The game works fine and I even selected search for updates and it says it's up to date. I deleted this entry from notifications and it freed up a lot of drive space.

How can I check which update I have?

I had to name my Badger Tuff build Bad Jar Tough as It won't accept the word Badger.

Yep, got it recently from the Coney Island Amusement Park mission, you just have to set the mission to Schaeffer Manhunt, it's in a chest, in the same room where you use the laptop in the haunted house.

@neebanator That does seem to work for some reason, I was doing GWH with backpacks as targetted loot, couldn't get anything to drop until I started changing difficulty levels then got a Memento and an Acosta's on the next two tries.


Not knowing what gear you have and you saying you're a casual player wanting to solo heroic missions I suggest this build, I can run through heroic missions with a similar build, I use an LMG and either a shotty or rifle, but I've changed it a little to suit your shotty and AR.

3 pieces of Badger Tuff which gives you 10% shotgun damage, 5% total armor and 10% armor on kill, if you get the Zero FF's chest it comes with Perfect Unbreakable which repairs 100% of your armor when it's depleted every 55 seconds. This is the tanky part.

1 piece of Fenris Group for 10% AR damage.

1 piece of Ceska Vyroba for 10% crit chance.

1 piece of Grupo Sombra for 10% cri damage.

That's the damage part.

Now if you happen to have a Memento backpack or a Coyote's Mask you can substitute either the Ceska or Grupo for one of them.

If you're using non exotic weapons try and put In Sync on them, this gives you an extra 30% weapon and skill damage when you're using a skill, like your turret or drone or both. If you have the Scorpio shotgun, or the Capacitor AR use either one, the Scorpio will take down named enemies easily and the Capacitor increases your weapon and skill damage. And on your non exotic backpack try either vigilance of composure for extra weapon damage.

Most hardcore players will laugh at this build but try it and see, it's amazing how much damage you can take and inflict with this build and you have little chance of dying in a heroic mission.

I got two from Exotic Caches and two from doing missions with backpacks as targeted loot.

How about being able to over charge weapons, for example if you have an exotic weapon, you can increase the base damage by 10% with an exotic component, and then up to five times for a total of 50%. I have 20 exotic components and nothing to use them on with a bunch of exotic gear multiples that are worthless, couldn't count how many Merciless's I have collected and deconstructed.



My favourite at the moment is Sleipnir LMG, M1A or Mop with In Sync. 2 x Belstone - mask and kneepads, Memento, Contractors gloves, Ceska chest with Perfect Spark and Grupo holster, with either Turret/Hive and Drone. Technician specialization.

4 x Reds, 3 x Blues, 2 x Yellows


If you play solo like I do a turret/hive and drone build is like having another two players with you, it not only damages hostiles but allows you to concentrate on downing the enemies in the order you want just like if you're in a team, although a little harder.

Maybe have a Mission Impossible setting for all missions that's a lot harder than Legendary for the Cylons?

I can do Heroic missions easily but can't manage Legendary missions solo, play on PS4 and 67yo, I would like it if they made Legendary a bit easier and like I said make another level that's harder than what Legendary is now.



Since we have had restricted movements from Covid it's been a good way to pass the time IMO.

Well surprise, surprise, surprise, I only needed a mask and knee pads to complete my D3FNC classified set, I bought six classified caches today, and got the kneepads out of the first one and the mask out of the sixth. So it was a great day for me, you have to get lucky sometime.

Haven't got the set optimized yet, need to get my stamina up to 9,000, but using it with The House its sure is fun, gave it a quick trial and never had the shield go down once.

Update: Got my stamina up to 9,000 now after recalibrating some gear and it makes short work of named bosses, can litteraly stand in front of them and shred them to pieces now. Still haven't figured out how to induce that buff though.





Will be playing this week and hoping to complete my classified D3NC set in the Strike Global Event, something I have been looking forward too.


My advice is to also swap the mask for Memento, keep unbreakable on the chest and try and make it another Belstone for the 10% armor on kill, it sure helps to keep you alive as when playing Heroic if you die you go back to the beginning.

@oatiecrumble Not just the NPC's run at lightning speed but those elite mini tanks seem to have a speed boost lately, you can have them taking lots of damage and when they get down to a quarter they turn tail and run for cover to get restored to full armor.