BennyMartins
@BennyMartins
Best posts made by BennyMartins
Hello.

I've also been having issues with AC Valhalla crashing all of a sudden. It started since the update.
I start a raid, do some things and the game crashes. It can happen right after starting the raid or in the middle of it, doesn't matter.
I read the posts that you launched a hotfix but it didn't help since the first time I started the raid today, I got of the boat and a few seconds later the game crashed.
I've verified the game files and they are good.
I've got a good enough pc to run the game at max quality in everything.
I've got the drivers updated to date, did it manually and automatically afterwards to make sure everything is on spot.
I just uninstalled Ubisoft Connect and the game itself and I shall try again, but if this problem persists, you need to help me fix this issue, please.

I've just tried to open a support ticket and it seems I can't due to COVID reasons. Also tried the live chat but that's not working either...

Need your help please.
Thanks in advance.


Hello @ubi-borealis

No problem at all. If by trying out different things might find the solution for everyone, I'm always glad to help out.

I was able to finish the raid in Meldeburne and never went there again, so no more crashes so far. I'll avoid that area altogether since I don't need to go there anymore.

Thanks for everything
Latest posts made by BennyMartins
Hello @ubi-borealis

No problem at all. If by trying out different things might find the solution for everyone, I'm always glad to help out.

I was able to finish the raid in Meldeburne and never went there again, so no more crashes so far. I'll avoid that area altogether since I don't need to go there anymore.

Thanks for everything

@UbiStorm @Ubi-Borealis hello again.

Just finished the raid at the Isle of Ely Monastery in Grantebridgescire with sucess with the graphics at max just as I played so far. The game was all smooth, no lag, no crashes.

With this I'm thinking there's something wrong with the Meldeburne location in Grantebridgescire because it seems it's the only place where my game crashes.

What do you make of this?

@UbiStorm @Ubi-Borealis hello, good afternoon.

I work for a living so I can't always be playing. Sorry for the delay

I lowered the quality of a few graphics options but it didn't improve anything. I raised them again and got the same result...
I've also verified my game files again and all is good.

I have another raid to do in the Grantebridgescire area so, and since it's a different location, I'm going to try and do it and I'll let you know what happened.



@ubi-borealis hello again.

I've just tried another thing which was fully disabling MSI Dragon Center but that didn't work out either, unfortunately

So far, it's been happening in the Meldeburne, Grantebridgescire location. Doesn't matter if I start a raid or not, because the game crashes either way. I enter from whatever side I want, eliminate a guard or two, or do anything else for that matter, and the game just crashes on me.
I was able to get the last chest and right after the game crashed. Fortunately, the game saved right after I got the chest

I'll try the same location yet again lowering my graphics and let you know if that works but I think that would be kind of weird, I donno...

Thanks again.

@ubi-borealis hello again.

So far, I've updated the ticket two more times and I'm glad you guys/gals are trying to help... the thing is that I'm getting tired of trying a bunch of stuff I never needed before...

Before the last game update, I ran the game on max specs, even without using my dedicated GPU which I'm using now, and the game didn't crash so far as I remember. Even if my pc had corrupted files or antyhign else, the game didn't crash before the update so it's very unlikely my pc is the problem.
Some of my work stuff, and other games, are "heavy" on specs and my pc runs them smoothly without any crash or problems.

Everything is up to date considering drivers, windows updates and it recently was in the shop for normal maintenance which I have periodically.

Hopefully someone from your side has something new to tell me on the support ticket...

Hey @ubi-borealis

I still haven't tried any raid, just went to a different part of the map and tried other stuff, which, up until now, didn't make my game crash.
When I try to raid again, if my game crashes, I'll update my ticket.

In the NVIDIA program I changed AC Valhalla to the dedicated GPU. I could already run the game at max capabilities with the "normal" NVIDIA but I'll try the high-performance one anyway.

I had to do a search on the internet to know what is the KNDBWM.exe, never heard of it before, and I still don't really understand what it is... what is it? But the main crashes only started happening after the last update if I'm not mistaken.

Thanks in advance for your help and I'll let you know if something happens!

Hello @Ubi-Borealis

Thanks for the welcoming and the response.

I've already updated the ticket with the files you asked for and added some more info that might be useful.
When you people are able, give me some feedback.

Thanks in advance

Hello.

I've also been having issues with AC Valhalla crashing all of a sudden. It started since the update.
I start a raid, do some things and the game crashes. It can happen right after starting the raid or in the middle of it, doesn't matter.
I read the posts that you launched a hotfix but it didn't help since the first time I started the raid today, I got of the boat and a few seconds later the game crashed.
I've verified the game files and they are good.
I've got a good enough pc to run the game at max quality in everything.
I've got the drivers updated to date, did it manually and automatically afterwards to make sure everything is on spot.
I just uninstalled Ubisoft Connect and the game itself and I shall try again, but if this problem persists, you need to help me fix this issue, please.

I've just tried to open a support ticket and it seems I can't due to COVID reasons. Also tried the live chat but that's not working either...

Need your help please.
Thanks in advance.

Most liked by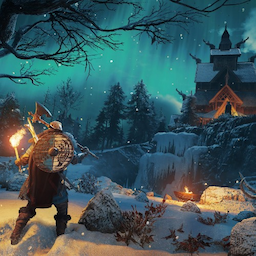 Most liked