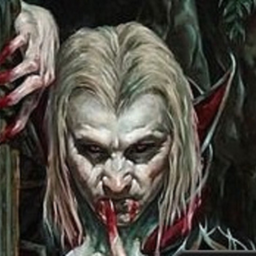 Best posts made by ChuckKatse
UBISOFT has completely got away form the Viking theme of this game with the latest series of Armor sets. The the ones scheduled on the horizon are even worse. One coming out with a rifle and bayonet, Swat shield. Well at least one thing is for sure, I won't be spending any money on their Armor Sets.

The Developers who dreamed up this Mastery Challenge have to themselves do some of the challenges. Make sure you make a video of your game play. You designed them, lets see if you can complete them. Oh I got one gold medal to get the Skadi's AX. Now I am done with the challenges. Some of them are so far left field to complete they are a waste of time. Oh and the rewards available from the Mastery vendor are not worth the time and trouble either.

I use to think the Zenimax game Elder Scrolls Online had the worst player support, but Ubisoft now holds first place in that department. The last update patch was December 15th. Since then numerous bugs some game breaking have been reported. If there has been a response by Ubisoft to any of the bugs reported it was to say they are investigating or have provided a walk around that in some cases did not even work. There has to my knowledge been no announcement of an upcoming patch to address many of the issues reported nor have they even tried to implement any hot fixes. That is pretty sad. If I was part of the upper management of Ubisoft I would be totally embarrassed and be seeking answers from my developers and game support personnel. Seems that is not the case. Ubisoft's reputation is in question here and is getting severely damaged. They better wake up.


@garbo3 I don't think Ubisoft tests their new content before releasing it and I think that is the problem. However, I could be wrong.


@bielik01 Nothing was fixed. Went to Ireland and the Morrigan Trials and restore Trade Posts on second playthrough are still not working after the latest patch. There is no sense continuing on with Ireland until those problems are fixed. UBISoft should be ashamed of the crappy content in AC Valhalla. The Trials and Trade Post problem has been reported for weeks now and still no fix and who knows when it will get fixed. Their development team needs a overhaul. Oh but make sure each month you put more crappy gear in your store.




Noticed the same thing with my runes. If it is intentional then Ubisoft needs to say so, otherwise it is a bug that needs to be addressed.

For me with the Wrath of the Druids completed there was nothing else to complete in AC Valhalla. Took my character to the settlement Longhouse and he sat in the Yarls Chair. He is now waiting for a new adventure. Until then am moving on to another game.

@dubblejd182 Your not the only one. So called walk a rounds do not work. Pathetic game support. Ubisoft should of had a hot fix by now.

I think the Developers who designed the Mastery Challenge need to do the content. Oh and make sure you make videos of your progress. Then you will know how pathetic some of the challenges are. Oh and the rewards are a joke also. I did one challenge (Assassination) to get a gold medalion for the Skadi's AX. I am not wasting anymore of my time on content that has completion requirements so far left field it is almost impossible to complete them.Not to mention the bugs with many of them.

@eggknobble The Arrow Dropper Skill is one of the three new skills added that have shown up for some who I believe still have them, shown up for others and disappeared, and not shown up at all. It was in the Blue Skill line. I don't think you will really get any honest answer from Ubisoft on the Quiver issue. Should of been fixed by now.
Latest posts made by ChuckKatse
You are not alone. My game crashes randomly but not every 15 to 20 minutes. I also use Nvidia Game Ready Drivers and have found the most stable version of that driver for this game is 457.51. All drivers later than that version were causing screen glare, flickering and numerous crashes. There are a lot of players having crash problems with AC Valhalla on all platforms. Nivida forums post several threads from players having issues with AC Valhalla.

@ninjasan10 When to go to the cave that has the sword in it, one column has a tablet already placed. You have to place the other 11. Seven are found in caves located throughout England and three on Zealots. I have no answer for the problem you described it seems weird and hopefully the Delves are looking into it. I know other players are also having problems.

@kmarkopl Change your set trap activation key to something other than the F key. The F key is also used to Assassinate. I was having the same problem so I changed my set trap key to my Num Enter keyboard key and it now works. Apparently there is a conflict when the same key is assigned to function two different skills.

If you are playing the game on PC and using a keyboard see what key is currently assigned for using the Skill. You can find that out in the Skills area just look what key is assigned to initiate it. For me in the past it was always the F key which is the same key used to Assassinate. In the past there was no conflict but now there was. All I did was reassign the Key to use the Explosive Corps Skill to something other than F in the Customize Menu and it worked. If you are using some other type of input device to play the game check to see if to use Explosive Corps the same input is used to Assassinate and if so change it to something else.

I have to agree. There are many players that report random crashing numerous times during game play. Ubisoft needs to take that into account and allow manual or auto saves on the River Raids. It is very frustrating to crash and then have to start all over again especially if you have a cargo hold of 400 and have it filled to 300 and crash. It's back to the drawing board. I never understood Ubisoft's reasoning on not allowing saves during the River Raids especially if you are not Raiding a location but just traveling down the River with no enemy in the area.

@virtualawesome If you are looking at the bows in the AC Valhalla online store there is a info button you can click on that will give you the bows details. It is in the left corner below the bows picture.

@mr-operator Just because the game says power level 90 that can be deceiving. Like I said wait until you are power level 300 or better then go take her on. Good Hunting.

Look at that skill and see what input you need to use to initiate it. I use a keyboard and the key assignment for it was F. That conflicted with the Assassinate Key assignment which was also F. I changed its key assignment under customize menu in options and it worked.

If you are still at the site of the wedding, you have to walk back down to the settlement then they will work.

Don't know what difficulty you are playing on but, if that fight is too hard drop the difficulty level to easy for the fight. If you research it is recommended that the player be at least power level 300 or better to take her on. Another option is try using duel spears and relentless fire attacks. Duel spears in this game are op. You have speed, and distance. I killed her on Drenger difficultly but that is the way I play the game. She can be defeated.