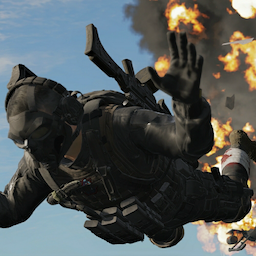 Darki_darK701
@Darki_darK701
Best posts made by Darki_darK701
This user hasn't posted anything yet.
Latest posts made by Darki_darK701
so, where to start -
-had tons of crushes, every 30 minutes and sometimes even every 5. I tried verifying files and reinstalling, but none worked.
-sometimes when I walk, I launch hundreds or even thousands meters forward/up, sometimes it even launches out of the map and desynchronize me.
-many times I randomly get stuck inside stones
-there are tons of flying grass in Ireland, and also at some places in England.
-there are places where I can see under the landscape, because the designers forgot to put and object to cover that hole.
-sometimes when I shoot an arrow, and it shows me it should kill the enemy, and none of us moves, it doesn't even hit him, or the opposite (it shouldn't hit but it does, and even the effect isn't hitting the enemy, but that happens mostly in movement).
-sometimes I randomly get stuck in air after leaving my horse/jumping, and then I get desynchronized.
-chain assassination isn't working, even though I have the skill and I'm undetected/being detected at the moment.
-AIs detects me without a detection sign, and sometimes don't even when they should because I'm in front of them and not very far.
-enemies being blocked even though no one blocked them.
-enemies sometimes attack the air, even though I didn't move from where they started the attack
-game shows connection error all the time, even though the PC is connected and windows shows no problem.

Fix at least the crashing problem, it's the most important one and the only one here that makes the game pretty much unplayable.

since patch 1.40 I've been experiencing crashes, I was able to avoid them by verifying the game files but it prevented them only for a few hours until they came back.