Continue your odyssey
Welcome to discussion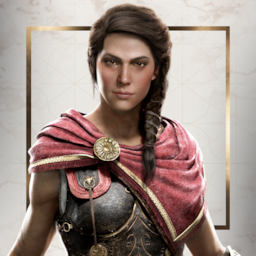 Best posts made by LurcherLady
@dlmthree I literally groaned when I saw the CC this week. I wasn't a massive fan of drinking or dice even when playing for something. And you're right, I couldn't be bothered for 1000 opals tbh.

With the huge amount of bugs/glitches and other problems that everyone has faced since launch, it would be a really nice gesture if Ubisoft made some of the challenges actually achievable.

@snakeeater49910 I pre-ordered the game because Odyssey and Origins were, for me, very enjoyable. So I was playing from Day 1 and had to restart the game twice because of progression bugs. I can appreciate that some stuff will slip through the net no matter how rigorous the testing is just because of the sheer number of combinations of hardware available today. But I can't believe that some of bugs where you can't actually progress within the game weren't picked up sooner.

I'm a middle-aged gamer (and female) so I'll give a little consideration as games have never been more complex or large as they are now. I can remember some of the games I've played which I completed in a weekend and they weren't much cheaper. I played Odyssey for around 500 hours, Origins around 300 and a little over 100 hours in on Valhalla which, touch wood, is still working and I've not hit any further issues as regards progression.

I also don't think you're very fair lumping everyone in together - I know my fair share of older gamer's who are just as bad at trashing companies for the slightest issue as younger one's.


@ladyswampfox I didn't even do any of the Yule related stuff, upgraded the settlement and it's happening every time you start the game or have to reload. It only lasts a couple of minutes but when you need to be able to see to fight or interact, very annoying. I think the effect is too strong and unecessary (on PC)


Latest posts made by LurcherLady
@don_smack_a_lot I had this happen on my first playthrough. I managed to eventually trigger the tablet by reloading a save prior to going in the cave. I don't think it resets, can't be 100% certain but think I tried that as well. Went away did a few other quests, returned and was unable to interact any further or get the tablet.

Reloading was the only thing that worked for me. Strangely, the second playthrough (with male Eivor, first was female, though I doubt that has any meaningful effect on the outcome) I had no issues at all and it progressed as it should. In fact, I've found several quests I originally struggled with do seem to have been resolved.

@dlmthree I literally groaned when I saw the CC this week. I wasn't a massive fan of drinking or dice even when playing for something. And you're right, I couldn't be bothered for 1000 opals tbh.

With the huge amount of bugs/glitches and other problems that everyone has faced since launch, it would be a really nice gesture if Ubisoft made some of the challenges actually achievable.

Got my first avenge mission today and was gutted to realise I'd killed the perpetrators but apparently because they were hidden in a hay pile, it wouldn't let me confirm the kill. Also couldn't get that body back out. First one in over 200 hours of gameplay.

@qizakzix Same for me (PC) but I have completed and got the gear I wanted already. Perhaps they are trying to fix the annoying drunken glitch which is happening on every reload regardless of where you are on the map.

@nickfonseca Have you complete the personal mission for Randvi. I'm not sure if this is scripted to occur at a certain point so happens at the same time within the game for everyone or based off how many regions you've completed. I thought it was bugged for me, having just two regions left but on interacting with her, accidentally asked if she was okay and it started this quest and then allowed me to continue pledging.

@wraithcadmus Yes it's been happening since the Yule update/activation and is really annoying. I find the drunk effect is overdone anyway but to have it happen for no discernible reason every time you have to reload is bizarre to say the least. It takes around 10 mins to wear off. A pain if you are at a point where you need to fight/interact and can't because of the effect.

@nickfonseca I don't know if this applies, I had done everywhere except Jorvik and Hamuntunscire. Couldn't progress until I'd done the personal quest with Randvi for which there weren't any obvious cues, except asking her if she was okay and I did that by accident. Was then able to progress but you sound further on than this.

@customer_x I know what you mean and feel that myself riding around. However, I can't imagine that there was a lot going on in that particular time period. I was a bit disappointed, the UK is an island, yet we cannot sail out to sea. I can only imagine this was because people complained about the amount of sea-travel in Odyssey. Personally, I enjoyed the change of scenery and pace it gave you. It's also really clumsy at the moment when you try and go on the longship. Most of the time, unless it's a forced thing, I don't even bother.

For me it seems as though halfway through the game, Ubisoft got fed up and things just feel rushed from that point onwards, the idea of pledging to areas is a good one but I think they could have done a lot more for each area and made it more in depth. It seems that way at first but then fizzles out somewhat towards the latter regions.

I too loved Origins and it is probably comparable in size to Valahalla. It just felt more polished and I loved the story of Bayek and Aya. I guess we'll just have to see what the additional DLC's bring to the table.


@animuslover After giving it more of a chance (pre-ordered and now 130 hours in) I have to agree with most of what you say.

I was really looking forward to this instalment - 1) because it's set in the UK where I live and 2) in the Viking era. However, I'm finding sometimes I'll really enjoy it, things just seem to work fluidly and then other days, it seems really sluggish and definitely not enjoyable.

Odyssey and Origins were both very good and little needed to change really. It's sad that so much of the game has been marred by odd mechanics and game breaking glitches. I realise that they like to change things up to keep people's interest but developer's seem to have a tendency to compromise stuff that works and replace it with broken or glitched mechanics that just become frustrating.

I'll play it until the end now but not sure I can summon the motivation to replay it, even with a new game plus that will no doubt be added at some point.





There are two parts to this quest. You talk to the old raider and he gives you a key to his house. You then have an option to return the crate of songs to him. BEFORE you pick up the crate, go to the water and move the boat which is near the dock. This allows the objects which form the path across to the island pop up, otherwise there are two missing and you cannot parkour across to the island with the crate. Putting the crate down on the ground doesn't work it just disappears. It was no longer back in the house either. Reloading a previous save, I was able to complete the quest okay. Hope this helps someone.