Continue your odyssey
Welcome to discussion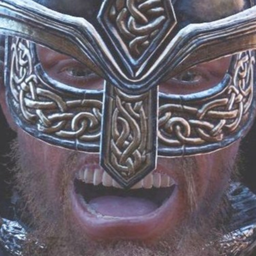 Best posts made by OlmerGrey
I really think there are semple not a lot of people dying in Valhalla as intended.
Besides very beginning of the game, when you unskilled and inexperienced, there isn't much of a challenge anywhere that could end up with your death.
I do remember that I avenger 1 of the player somewhere at the beginning of my playthrough before 1.0.4 patch, and that's about it.
We gonna need to find a specific spot where everyone will commit mass "suicide" of enemy hand to check that out.


@chuckkatse
It's funny how people immediately begin to criticize and come up with their ideas without even trying to figure out all the game has as it is.

@logibear0111
Well, Ubisoft said they sort of fixed it in a patch 1.0.4... so that's probably not on "ASAP" list of problems anymore.
But, since it's actually isn't fixed yet, they probably will return to this problem sometime next year.
On PC people can get those fishes by cheats... on the consoles there is nothing to do but wait.

So it's basically just retexture of Huntsman set... a bit disappointing but at the same time expectable.
Does it has different visual to different tiers like original set, or tis a single look like Hidden Ones' Set - anyone tried that?
Well, at least dagger and shield looks unique and nice.
Although... only legendary upgrade change the visual of it. That's weird... and basic look of it on Jomsviking is even weirder lol )))

@seba84_2005
Legends were true!
Big flatfish and big mackerel really does exist.
So... will you share with us this sacred knowledge? How and where exactly did you get them?
Wish I could handle it the same way you did...

As it is. The game stopped launching, yesterday everything was in order, as well as all the time before that (I have been playing since the day of release).
I'm on PC. Windows 10. Internet connection if fine (thats how im here). Brandmauer disabled. Tried to disable antivirus as well - no result.


@tyeler0222144
In theory - yes, all items from ubi-store can be bought at Rita's store. On practise - there are alot of tricky algorithms that determine when and what product gets there depending on Ubisoft marketing policy +random.


So after recent 1.2.0 update I notice that appearance of my Carolingian armor chest piece has changed.
Namely, the dagger that used to hang on the belt in the past (as in the promo image) now has ben stolen!!! disappeared.

Yeah, it's not a big deal, and may be over time someone in development team decided that armor would be better without such dagger... but I really hope that wasn't a case, and this is just a consequence of a technical problem of some kind, not a new design decision... because I miss that dagger dearly, and want him back


@lordraven4430
Bro... the guys here complaining about "river raids" - new downloadable game mode free for all. Not about main game content, main story, side activities or something like that... just about "RIVER RAIDS" and how few actually replayable content in it.
I don't know how could you misunderstand it TWICE, but this is how it is... seriously.


@kreutzgang
Well hey, they could make NO CONTENT AT ALL after official release (unless for some patches or what not). Some companies do that.

Look at examples of games like Mass Effect:Andromeda or Jedi: Fallen Order - for one there was more content was promised and cancel later on, for other there was not ever a promise of post release content (just an exemples that come to minde).
Both games was selling for 60$ or so, just saying.

On the other note, there was Assassin's Creed: Unity - for which initially paid dls was given for free, and all other post-release content was canceled completely.
This is another alternative of the future for game without "free" content.

As for me, any content provided by developers for free after release beyond fixes/patches - without a doubt real FREE CONTENT without sarcastic quotes.
Latest posts made by OlmerGrey
The real turning point for me was understanding what 60 fps means with vertical sync

Yeah, I don't know if you are new to gaming. It sounds like you might be.


And... what would that mean?
I'm not new to gaming at all, usually playing at 60 fps or so together with vsync-on, and have no idea what are you talking about.
Am I missing some crucial knowledge here?
Just became very curious about it...


@daelosthecat
For me - yes.
For you - seems like it never really was fun and never will be, sorry.

Don't bother, I am sure there are plenty other games that you will like to play more

@torean9990
I think it's hilarious how some of you people have so much trouble with this simple mini game.
And it looks like ubisoft find it hilarious too, that's why they added one parody scene about this about little girl who can't put 3 stones on top of each other (she lost her parents too...).
Ubisoft laughs at you guys and feel pity at the same time. Perhaps some passing hero will save you from naughty stones lol.

But seriously... JUST PUT STONES ON TOP OF EACH OTHER.

It's simpler than it looks

@tcouch2050
I think your desires can only be satisfied by mods really.
Like it was mentioned before there already one on nexus that make Eivor topless (full naked if needed), and another color retexture for the bra so it sute Berserker armor better.
You ask from Ubisoft too much, there almost zero chance they will du something about it.

@killjoytomsta
Somewhat historically accurate armor and weapon would be nice for a start... and it would be great if they weren't made entirely of GOLD by the way... and if we could could get them as an actual reward thru gameplay (not thru the Helix store) it would be completely awesome.

@prashant309
The "clues" should be there no matter was place raided or not (it's just a side note). If its nowhere to be found - you might encounter a bug, then you screwed until Ubisoft will fix it.

@kreutzgang
Well hey, they could make NO CONTENT AT ALL after official release (unless for some patches or what not). Some companies do that.

Look at examples of games like Mass Effect:Andromeda or Jedi: Fallen Order - for one there was more content was promised and cancel later on, for other there was not ever a promise of post release content (just an exemples that come to minde).
Both games was selling for 60$ or so, just saying.

On the other note, there was Assassin's Creed: Unity - for which initially paid dls was given for free, and all other post-release content was canceled completely.
This is another alternative of the future for game without "free" content.

As for me, any content provided by developers for free after release beyond fixes/patches - without a doubt real FREE CONTENT without sarcastic quotes.

@rosemendez98
It's very hard to see something specific on your images... but I'm just curious, what did Ubisoft broke this time?

@neoblade16
There was much better cloth physics in pre-release version of Valhalla, according to some trailers and gameplay videos, but apparently was cut off at the very end somewhere for some reason.
So, it might turn back once again someday.
No official response on this topic was given by Ubisoft however... pretending that everything is working as it should. Go figure ¯\_(ツ)_/¯


So after recent 1.2.0 update I notice that appearance of my Carolingian armor chest piece has changed.
Namely, the dagger that used to hang on the belt in the past (as in the promo image) now has ben stolen!!! disappeared.

Yeah, it's not a big deal, and may be over time someone in development team decided that armor would be better without such dagger... but I really hope that wasn't a case, and this is just a consequence of a technical problem of some kind, not a new design decision... because I miss that dagger dearly, and want him back