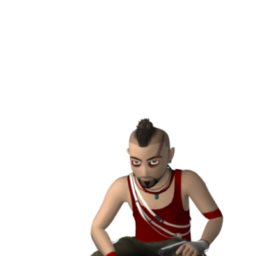 Best posts made by R4MPZY
Latest posts made by R4MPZY
@ubi-borealis It is actually a sign of relief that some ubisoft employees also like other characters as possible romance options ( Soma & Birna ) even if it may never happen.

And yes it has been said that the option to romance Randvi reopens later in the game if you made the "now is not the time" choice, but what is bugging me is that i was never able to even make that choice ( or even start the Randvi quests ).

So i'm a little concerned i would finish AC:V, doing everything there is to do, and end up being unable to romance Randvi ( i know Petra is another romance option but i want my Eivor to romance another Viking, sorry Petra )


@ubi-woofer You said the option to continue reopens at a later time, is that also true when you could not even select the "now is not the time" option? My quest disappeared before i could even start it. It is beyond my understanding that there would only be 2 "real" romance options, and 1 of them being bugged since release without any fix. How was this never noticed during bug testing ?

If only Soma was romanceable sigh

@font81 I cant even do the quest anymore, the quest simply vanished from my game before i even picked it up. I saved right before Randvi and she had the quest marker. I went to work, came back and the quest marker was gone. So i dont even know if i can still romance Randvi even if i continue the game.

Thanks Ubisoft for fixing this issue that has been here since mid-November, guess i'll just move on to other games and this will be my last AC game.

@font81 Yeah.... I had this issue back in mid-November, have dropped the game and been waiting on a fix ever since, i dont think Ubisoft wants me to play the game anymore.

@undeadelvis85 I reloaded a save from before i did Taken for Granted when i had this issue, but after doing some raids or continuing the story the quest simply disappears.

I reloaded all my saves to right after i turned in my 3rd pledge and you see the quest mark above Randvi, so instead of doing the quest i went on to do some raids and the quest still disappears

@anmixx Yeah... Good thing Ubisoft did some thorough beta testing.. oh wait

@anmixx Guess i am still screwed in that case. I made multiple saves right before the Taken for Granted quest, with the quest marker above Randvi's head. I went on to do some raids and when i came back the quest was gone on all my saves.

@anmixx Did you do Taken for Granted before and chose " now is not the time" or did you not do the quest at all?

Hello all,

So far i have been solely using the Raven Clan armor set so far, and i just got to Lincolnscire and raided Spalding Bandit Lair where i got a Galloglach torso.
After checking my inventory i noticed i now have 2 Galloglach torso and 2 Huntsman torso... Does this mean i will be unable to get the 2 armor items i was supposed to get?





As you can see on my screenshot i now only have 4 empthy squares left, does this mean if they all fill up with new/other duplicates i will miss out on actual torso items i need?
Since Ubisoft decided you cannot sell armor anymore, how am i supposed to get rid of them?

And no offence to the Ubisoft forum moderators but how do bugs like these even get through beta testing?
I am over 70 hours in the game, i already missed out on the Taken for Granted quest which is still bugged ( simply vanished from the game before i could even start it ) and now this... I do not want to restart my game for bugs that should have been spotted in beta testing.

@anmixx Only the romance or does the quest Taken for Granted return?

The quest simply disappeared for me before i even had the chance to do it.
Most liked