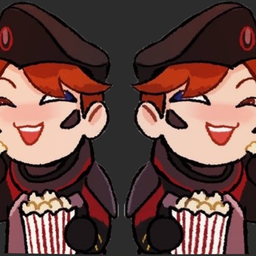 RoyalThundercat
@RoyalThundercat
Best posts made by RoyalThundercat
@kean_1 Sorry to read that but you got me wrong, it is the fact that you add me to an "ignore list" previously in the old forums for a trifle, now that I read me I may ask you to excuse me because I see I overreached. The trifle you blocked me before was because of a matter in which I didn't even involve with you, before at any other thread due to I already agree with you, it is when CP2077 was released and some guys bring this to the old forum as an example of good launch or GOTY, and we all know after a week how bad turn to be the game at launch, a game that the only difference with the release of BP it is that BP didn't respect the cores of the Ghost Recon previous games and CP2077 at least didn't have any game released being a decades-old boardgame, and what bad praxis CDProject Red did before the game release like they hid the console versions, they did not show it until launch day and they only gave the press some videos already recorded from the developer's offices and that by clause the magazines could not show anything of theirs until after the launch. I never saw this in my years in the game industry. Because I grow bored of replying with paragraphs or typing to the people who defended CDPRED and CP2077, I dedicate any reply to post with links and videos of the game release. Like you can see, this has nothing to see with the awful management of Ubi with her franchises, but with other publishers and their franchises that you "ignored me".

I take this as a problem because let says you would be one of the people I take serious feedback about other shooter franchises and I had hoped to play with you in some of them that when I read in another post in another thread that you "ignore me" with that feature that I toke that like a punch to the face. I take this seriously because consumers and gamers shouldn't tolerate bad praxis and behaviours of the AAA companies in years they launch unfinished garbage like BF2042, GTATheDefinitiveEdiditon and many more, people should have higher standards when it comes to buying a game that they have paid for even months before launch, we want a playable game day one, not years after its launch.

As you see, this has nothing to see with the awful Ubisoft´s management with the Tom Clancy game branches. Hope this help rethink some things. I play Sandstorm with this

if you .
Latest posts made by RoyalThundercat