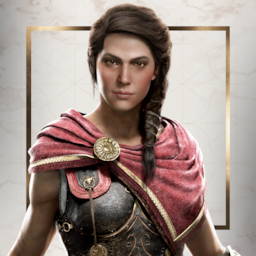 Best posts made by spycewhale
I've seen a lot of posts on here about the negatives of ACV and just wanted to chime in with my two cents. Maybe just inject a little positive in to the room.... I get there are bugs, and for those with bugs that are truly stopping your gameplay I feel for you.

For me, this is a truly magnificent game. It's beautiful open world adventure that rivals and even expands in some ways on RDR2. The detail that has been taken to make exploration fun is astounding! Not fun by a giant pot of rewards, but fun just by taking in the scenery. All thanks to some amazing details and superb art direction.

I've seen posts saying the graphics are terrible, and it makes me wonder if I have low standards? Am I playing the same game? To me it's just overall beautiful. Especially for an open world game! Yes there are a few muddled textures and character models here and there. That doesn't detract from some fairly epic screenshot [censored] though!

I do feel the game needs a bit of polish overall and it will come, but I for one just wanted to reach out and say thank you game devs for bringing me exactly what I enjoyed from RDR2 into the AC universe.

And now I shall put my flame retardant suit on....



Same issue here. Also on PS4

@captainstarpaw

That detailed write up on Reddit was absolutely amazing! I can hear the difference, but lack the technical knowledge to figure out why. Thank you for all the effort you put in.

I really think some kind of proper audio package should be provided as soon as possible. It's a bad look regardless of what the decision making process was in the background.

I think it was a good call with no regen. In AC:O it was far too "cheap" to just run away for a second to heal fully. IMO no regen offers a little bit more difficulty in a game that already has combat that is fairly easy.....
Latest posts made by spycewhale
@captainstarpaw

That detailed write up on Reddit was absolutely amazing! I can hear the difference, but lack the technical knowledge to figure out why. Thank you for all the effort you put in.

I really think some kind of proper audio package should be provided as soon as possible. It's a bad look regardless of what the decision making process was in the background.

I've seen a lot of posts on here about the negatives of ACV and just wanted to chime in with my two cents. Maybe just inject a little positive in to the room.... I get there are bugs, and for those with bugs that are truly stopping your gameplay I feel for you.

For me, this is a truly magnificent game. It's beautiful open world adventure that rivals and even expands in some ways on RDR2. The detail that has been taken to make exploration fun is astounding! Not fun by a giant pot of rewards, but fun just by taking in the scenery. All thanks to some amazing details and superb art direction.

I've seen posts saying the graphics are terrible, and it makes me wonder if I have low standards? Am I playing the same game? To me it's just overall beautiful. Especially for an open world game! Yes there are a few muddled textures and character models here and there. That doesn't detract from some fairly epic screenshot [censored] though!

I do feel the game needs a bit of polish overall and it will come, but I for one just wanted to reach out and say thank you game devs for bringing me exactly what I enjoyed from RDR2 into the AC universe.

And now I shall put my flame retardant suit on....



I'm pretty sure it's the symbol of a recruited jomsviking at your village when they've been recruited for your long boat. I had to un-recruit the one I paid for just so I wouldn't see the symbol all the way across the map.

No idea if this is by design or a bug...

I think it was a good call with no regen. In AC:O it was far too "cheap" to just run away for a second to heal fully. IMO no regen offers a little bit more difficulty in a game that already has combat that is fairly easy.....

I want this so badly. I'm a broke viking and hate spending money on something only to find out I actually didn't want it!

Same issue here. Also on PS4
Most liked